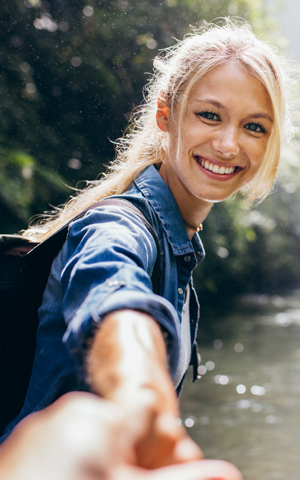 A warm smile is an important part of greeting and mingling with others. Patients who believe their teeth are unattractive may avoid social events and face-to-face interactions. If you find that your hand keeps moving up to cover your mouth when you laugh, or you keep your lips pressed together when you smile, then it's time for a smile makeover to give you that needed confidence boost. Dr. Brien Hill is committed to helping you look your best so you can talk, smile, and laugh freely again!
What Makes a Smile Beautiful?
For most, the ideal smile is bright, straight, clean, full, and healthy. When determining how best to improve your smile, we will discuss your specific concerns and preferences for how you want to look. Before your consultation, think what exactly you'd like to see in the mirror and in photos. Here are some questions to consider:
Are your teeth too small? Too large? Too crowded? Too far apart? Too stained or dark? Do any teeth need to be replaced?
Do too many of your teeth show when you smile? Too much of your gums?
Do you want to dazzle and stand out with a perfectly straight and sparkling white smile? Or would you rather be less conspicuous with more natural variations and shades?
Please bring in pictures of what you do and don't like or any specific look that you're hoping to achieve. Dr. Hill will discuss all of your questions and more with you in order to determine which of our services will get you your perfect smile.
Our Cosmetic Services
Our practice offers the following services for creating beautiful smiles:
Cosmetic bonding to repair and fill in chips or cracks
Crowns and bridges to replace or cover missing and damaged teeth
Dental implant restorations to repair damaged implants and keep artificial teeth secure
Tooth-colored inlays and onlays to fill in large cavities without being noticeable
Porcelain veneers to quickly and completely transform the appearance of all teeth
Removable dentures that can cover all teeth or just replace a few
Teeth whitening to brighten all teeth several shades lighter
The path to a beautiful smile is just a consultation away! Schedule a thorough dental exam with Dr. Hill today to discuss your concerns and options.