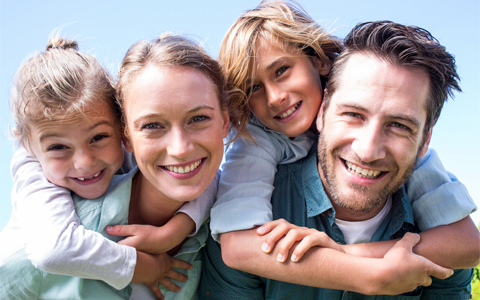 For many people, dentist visits are challenging enough for yourself. Bringing children into the equation can make the visit more difficult—but it doesn't have to be that way! If you are a parent whose children need dental attention, Hill and Schneidmiller DDS is here for you and yours.
We provide excellent quality family dentistry for all ages, including regular checkups, cleanings, cavity fillings, and many cosmetic treatments. But we don't focus only on the treatments—we focus on you, and your family's needs!
How Important Is It to Find a Pediatric Dentist?
The short answer: very!
The longer answer begins with the fact that children need dental care as soon as they have teeth. Getting them in to the dentist early will help us make sure their teeth and gums are developing properly. It also helps prevent common child oral issues.
Finding a dentist who really knows kids dental care is more important than it may seem, for several principal reasons:
Dentistry for children is different than care for adults. Baby teeth are proportioned differently, and have a much thinner layer of enamel. Additionally, the teeth and jaw of a young person are still flexible and growing. It is vital to know how to care for teeth with these considerations in mind.
The health of the baby teeth can directly affect the health of the adult teeth. This includes both their spacing and their physical condition. Early care is a long-term investment in the life-long health of your child's teeth.
Full-family dental care at a young age helps children appreciate the dentist more and adopt good hygiene practices early. The more consistent brushing and flossing are as children, the easier it is to carry these habits into adulthood.
Most children don't lose the last of their baby teeth until age twelve. Children's teeth are just as susceptible as an adult's to sensitivity or pain from any damage they receive. Twelve years is a very long time to live with that pain if that damage is not cared for in a timely manner.
More than just caring for these tiny teeth, we work with children using kid-friendly lingo called Dental Kidspeak to teach proper dental hygiene habits. Brushing twice a day, with the proper technique, and flossing once a day can lead to a lifetime of healthy smiles.
Everything we do at Hill and Schneidmiller DDS is designed toward providing an entire lifetime of health for your children's teeth.
How Do I Find a Kids Dentist Near Me?
Hill and Schneidmiller DDS is the place to be! We are a family establishment from beginning to end. From fillings and extractions to crowns and TMD treatment, we make sure that your children receive the greatest possible care with the least possible difficulty.
Children feel welcome and recognized here, which makes visiting the dentist less distressing. Comfort is as important to us as good work.
Our practice does everything we can to make our patients as comfortable and informed as possible, for both children and adults. This makes us an ideal dental office for a dental cleaning, dental emergencies, family cosmetic dentistry, and everything in between. We encourage you to make Hill and Schneidmiller DDS your official La Mesa dentist.
Preventative Care at a Dentist Office Near Me
You may be asking yourself, "Do I really need to see my dentist every six months?"
We often think of dentistry in terms of cavities and root canals. These procedures repair damaged teeth, and help keep your smile shining. However, most of our job is to prevent these issues from happening in the first place.
Regular checkups and dental cleanings are absolutely vital to not only getting your teeth healthy but keeping them that way. Full-family care dental visits—even when there are no obvious signs of a problem—can help with:
Detecting and preventing gum disease.
Preventing tooth loss.
Detecting early signs of more serious conditions, such as oral cancer.
Catching cavities before they grow larger.
Preventing infection from spreading to another tooth.
Preventing serious pain by treating issues as early as possible.
As important as it is to keep up with your personal dental care, it's even more important to maintain dental care for the entire family. You can make Hill and Schneidmiller DDS your one-stop shop for yourself and your children, ensuring that everyone gets top-quality preventative care.
Why Should I Make Hill and Schneidmiller DDS My Cosmetic and Family Dentistry of Choice?
Here, we don't just know patient numbers—we know everybody by name. From the moment you walk through the door of our charming brick building to the moment you leave it, we treat you like family. In fact, our entire team goes above and beyond to ensure that you and your family are treated with respect and friendliness.
We also have a full range of many dental procedures, making us both a family and cosmetic dentistry office. You can even call on us when you need an emergency dentist!
If you are looking for an office that can treat your whole family, you've found us! For whatever you need, and whoever you need it for, our dental practice—Hill and Schneidmiller DDS—is here for you!
I Want To Find A 5-Star Dentist Near Me
Hill and Schneidmiller DDS stands ready to serve you with attentive care that can make the whole family smile—both literally and figuratively! Let us show you the kind of excellent quality family dentist La Mesa can provide.
Feel free to call us today to ask any questions or to set up a dentist appointment. See how we can help your family!